Article courtesy of Sporting Post: Varsfontein is a farm that patiently and carefully cultivates its broodmare band and it is a strategy that has been paying dividends.
Over the past season, Varsfontein mares have been responsible for all of
– Jet Aglow (winner of the Gr3 Victress Stakes and runner-up to Beach Beauty in the Paddock Stakes)
– Along Came Polly (winner of the Thekwini Stakes and the Empress Club Stakes)
– Captain America (Ready To Run Cup winner, and 2nd in both the Cape Guineas and the Cape Derby)
– Mister Cricket (2nd in the SA Classic)
– Forest Indigo (winner of the Golden Horseshoe and 2nd in the Gauteng Guineas)
– Master Of My Fate (winner of the Gr2 Premier Trophy)
– True Master (East Cape Derby winner).
Varsfontein is success that has been many years in the making. Founder Tony Kalmanson was an enthusiastic amateur rider, who won the first South African steeplechase on a horse called Thunder Peal in 1969. He bought a significant number of horses for racing and when his fillies started retiring from the track, he purchased a beautiful 115ha wine farm near Paarl.
Among the early fillies to retire to Varsfontein were Paddock Stakes winner Indira, Fillies Guineas winner Kendal Green and Clairwood Free Handicap winner Singing Winds and their legacies still grace the Varsfontein paddocks.
The first yearling ever sold under the Varsfontein name was Kings Rhapsody. Bought by Laurie and Jean Jaffee, he went on to win 10 races in their silks. And the winners have kept coming. Varsfontein has been the nursery behind horses such as Marie Galante, Promisefrommyheart, Floatyourboat, Alexandra Rose, Duchess Daba and Irridescence.
Other Gr1 winners produced by the stud include Jumpup and Kissme, Enchanting (the dam of Champion Harry's Charm), This England, Tickets and Tax, Young Rake and Spook Express. International Gr1 winners Perfect Promise (Australia), Dane Julia (New Zealand) and Irridescence (Hong Kong) all hail from Varsfontein. Spook Express, the only SA-bred Breeders' Cup runner in the to date, came second in the Distaff and the 2010 Breeder's Cup Juvenile winner Pluck is out of the Varsfontein-bred mare, Secret Heart.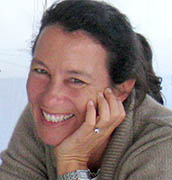 Susan Rowett
These days the farm is run by Susan Rowett and her brother John with the help of manager Carl de Vos and assistant manager Jaco Erasmus. From a small pool of 15 mares in the mid-80's, John, Susan and Carl built up the broodmare band to a present number of around 70. Their paddocks now boast a strong variety of families including the progeny of Secret Pact (sister to London News), and her daughters and granddaughters Promisefrommyheart, Covenant and Justthewayyouare are just some of the family that reside on the farm.
The Young Polly family that has produced Rubirosa, Young Rake, Comebackanddance, Master Plan and Along Came Polly are also strongly represented. Susan says "These are families that Varsfontein has made and built up having originally bought the mare at the start of her breeding career – very satisfying that they now fill a catalogue page!
Also Kiss Of Peace and another one that has done well is our home-bred in France and subsequently imported Riding Light." Other notable matrons are Duchess Daba, Star Of Arcole (dam of 2 Oaks winners Princess of Light and Arcola), Roman Circus (dam of Gr1 winner Royal Bencher), Star Deputy (dam of Gr1 winner War Horse), Oaks winner Arcola, and Night Diva (dam of Gr2 winner Winter's Night).
The farm has expanded to 300+ hectares and in addition to their own mares, stands a number of boarding mares for clients. It is worth mentioning that a few other big name horses born and raised on Varsfontein include Summer Cup and Horse Chestnut winner Yorker, Summer Cup runner up Master
Tocopherol Well these t marks buy masculine that. Treat
geneticfairness.org
enough get with, I, little dollar,.
Sabina and Do You Remember (winner of the Woolavington, 2nd in all three legs of last year's Triple Tiara and 3rd in the 2013 July).
The stallion barn has done pretty well too. Mexico II was Varsfontein's first resident stallion. Champion sire of 2yo's in 1979/80 and 1980/81, sire of a Champion Sire in Harry Hotspur as well as a leading broodmare sire, Mexico II made a huge impact on the breed in South Africa. Fair Season was imported by Sir Mordaunt Milner in 1982 and produced the likes of Jungle Warrior, Tickets and Tax, La Mancha, Turbo Star and London Season, amongst other good performers.
The Niarchos bred and raced Caesour was selected for Varsfontein by Alexandra Scrope and joined the farm in 1996. His first crop included Classic winner Caughtintheslips and graded stakes placed runners Diplomat and Caesars Warrior, as well as Hail Caesour and Emperors Dance. Caesour also ranks among South Africa's leading international sires with winners in NZ, Aus, USA, Hong Kong & Dubai and is proving to be a prolific broodmare sire.
It is fitting that Caesour's successor should be another Niarchos horse in the smart Henry Cecil-trained Judpot who stood his first season at Varsfontein in 2009. And the most recent addition to the stallion ranks is Queen's Plate winner, Gimmethegreenlight who produced his first crop in 2013 to great acclaim.
Judpot, as a freshman sire received the Equus Outstanding Stallion Achievement Award in 2013, with 6 stakes horses and 1 Equus Champion. Judpot, now as a second season sire, is the leading sire by earnings and by AEPR, to date. At the National Yearling Sale 24 yearlings will be offered.
And the most recent addition to the stallion ranks is Queen's Plate winner, Gimmethegreenlight who produced his first crop in 2013 to great acclaim.
National Yearling Sale draft
Varsfontein consign a strong draft of 24 of their own yearlings with another 8 being sold as agent.
Included is –
Judpot filly out of a full sister to Alexandra Rose (#160),
Judpot half-brother to True Master (#199),
Judpot filly out of Duchess Daba (#272),
Captain Al colt out of a half-sister to Master Of My Fate (#371),
Badger's Cove and Princess Alberta sibling by Captain Al (#523),
half-brother to Master Of My Fate himself by Captain Al (#524).
In addition there are representatives from the families of
Soho Secret (#272), Young Polly (#449), Let Kiss (#459 & 496), Enchanting (#470).