Master Of My Fate joins the stallion roster at Varsfontein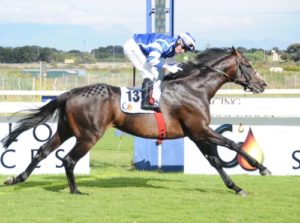 It matters not how strait the gate,
How charged with punishments the scroll.
I am the master of my fate:
I am the captain of my soul.
William Ernest Henley
Master Of My Fate is coming home. It's a rather bitter-sweet end to the career of one of the most promising young horses never to win a Grade 1. But horses march to the sound of drums too distant for us to hear or understand. Monty Roberts always says 'the horse will tell you' and Master Of My Fate has decided it's time to retire. Somehow, given his name, his history and his provenance, it is fitting and perhaps the story that we'd hoped to see on the racetrack, will run its course in the breeding shed instead.
When I wrote about this horse back in January, I said that the word that came most strongly to mind when I thought of him was 'echo', both for his physical appearance as well as his way of running. I also said that "The story of his sire Jet Master is one of pathos, high drama and set-backs" and it seems that Master Of My Fate is destined to mirror his sire there too.
Family ties
The Jet Master story is a well-worn one, but the big colt has a pretty impressive female line too. Dam Secret Pact was a full sister to South Africa's globe-trotting superstar, London News. The Kalmansons missed out on her at the 1992 National Yearling Sales, but when she was offered on a 1998 dispersal sale in KZN, they went to a then record price for a broodmare at R750k. However, she has repaid them handsomely.
Secret Pact's first Varsfontein foal was an Elliodor colt who raced and won in Singapore. Her next foal was the Fort Wood filly Secret Heart. Bought and raced by the Jaffees, she then passed into the hands of Team Valor's Barry Irwin and produced their Breeders' Cup winner, Pluck. The following year Secret Pact produced a beautiful Elliodor filly named Promisefrommyheart.
Being a late, slow-maturing foal, she was kept back from Nationals and another set-back kept her off the 2yo sales, so with one thing and another, Promise stayed. And what a stroke of luck that proved. Under the care of Geoff Woodruff, 'Promise' turned into a magnificent race filly, winning six times in the famous white and scarlet Varsfontein silks, with victories in the Triple Tiara 1600, SA Fillies Guineas, Ipi Tombe Challenge and the Woolavington. She was also named 2003 Equus Champion 3yo Filly, Highveld Champion and Cape Champion. But it didn't last. There was a tiny hint that all was not well after the 2004 Vodacom Durban July. Nevertheless, she faced the starter for the 2004 Summer Cup and finished under 4 lengths off Winter Solstice in the 2005 Queen's Plate.
Promise was preparing for the Met when she suddenly collapsed in her stable. She'd contracted endocarditis and worse still, a clot had lodged on her heart valve and got infected. It required some fairly draconian veterinary intervention, but they managed to pull her through. The infection has cleared, but the clot remains and every day is a bonus.
Promises kept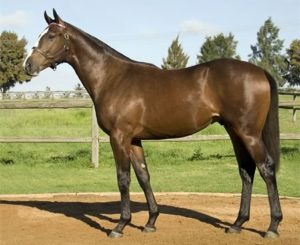 Promise has continued the family legacy with her first three foals all being winners, of which her 2008 colt by Western Winter won in Dubai. Then came Master Of My Fate. He was born on the 4 September 2009 weighing 57.5kg and was stunning from the word go. Susan named him from the poem Invictus and says "It's a super strong name and fitted him perfectly with the female line connotation of inner heart-felt secret strength." The story has become part of racing's folklore, but Mr Andrew Papageorgiou had selected lot 352 as his pick of the catalogue. It was his only purchase of the sale and he had to chase him all the way to R3 million, but he got him. "It was the start of a special friendship," says Carl de Vos and one that ran all the way through the colt's career. Master Of My Fate was originally sent to Sean Tarry, but then transferred to Dennis Drier, where he did himself such a severe injury, that he had to sit out most of his 3yo career. Unfortunately by the time he did canter out for his first start, Mr Papageorgiou had passed away and was not there to see his colt debut.
Racing Career
Master Of My Fate finished 1 length second to Aldric in a maiden plate at Clairwood in May 2013. As Mr Drier commented afterwards "he beat himself, really." After that he was a straight-A student, winning his next six consecutive starts, including the Gr2 Premier Trophy and the Gr2 Peninsula Handicap. He cantered down a short-priced favourite for the Met and Mr Drier comments "everyone who watched the Met saw the interference he had in the first 300m and we all know how desperately unlucky he was." The visitors headed back to Durban and the colt was have his final pipe opener for his Drill Hall prep on Tuesday, 29 April, when it is suspected he took a wrong step. Veterinary examination diagnosed a severe tendon injury and on Friday, 2 May the announcement was made that the colt would be retiring to stud.
It is fitting that the Papageorgiou's elected to stand their colt on the farm where he was born. I chatted to Carl de Vos earlier this week and he was thrilled at the prospect. We've got a very good relationship with the family and I called Tannie Annetjie as soon as we heard. She was terribly upset and we discussed what do we want to do. She thought sending him to Varsfontein would be the best way. She knows us and she knows Susan and she suggested syndicating him. That was halfway through last week. I enlisted John Freeman to help with the syndication and by Monday (12 May) it was done, finished and he was fully syndicated! It was similar with Gimmethegreenlight,although if anything, I think this colt syndicated even faster. It's been a combination of things I think. He's a magnificent individual, he comes from arguably the best female line in the country and we've priced him right."
Stud career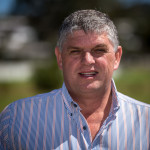 Basically, we will be the stud master, which everyone is happy with, John Freeman will be the syndicate manager and the horse will be owned by the shareholders of which there are 45. Varsfontein has taken 10 shares and of the rest, most have taken 1 share each. Most of the big breeders have bought in, but there are a lot of people involved including Lammerskraal, Maine Chance, Avontuur, Ambiance, Boland, Connemara, Daytona, Drakenstein, Peter de Beyer, Brian Finch, Gary Player, Wayne Kieswetter, Moutonshoek, Oldlands, Mrs Devine, Riverton, Rennie Price, Ashleigh Parker. I know I've missed a few, but basically it's a lot of people and most importantly, it's a lot of good people and he'll be assured a good spread of mares. At R10k per cover, we've already started taking bookings. We intend to limit his book to around 100, depending on how he copes. It's tough to predict until you're in the season, but if he's struggling for any reason, we will limit it further."
Master Of My Fate is currently in the care of Mr Drier where he will stay until he is cleared for entry into the Western Cape. "In theory, he could come down anytime from the end of next week, but then he'd have to do a layover because of African Horse Sickness, so we will wait for the state vets to give the all clear and travel him down directly. This might not happen before the end of June or even the beginning of July. It all depends."
With the farm having recently lost their senior sire, Caesour, I asked whether Master Of My Fate would take over the old man's stable. "We didn't do this for him, but we're actually in the process of building a whole new stallion complex. A lot of things have happened, we've moved the paddocks and where their paddocks and stables were, we're putting up a covering shed and a new stabling block."
Homecoming
"Like we said in our little press release 'The Master's coming home.' It's very emotional for us. We've had the grandmother, the mother and now the son is coming back to stand at stud. It's huge for the farm and all the staff, most of who were around when he was born. This is proudly South African and proudly Varsfontein and we're very very excited. There's so much story around this family and this mare and how Mr Papageorgiou bought the horse and everything that has happened since, that this has got to work."
Jet Master ultimately triumphed over adversity to roar his way down our tracks and stamp his giant feet all over our history books. This somehow has that same hallmark all over it. But no matter what my predictions, in the end I suspect the big bay colt will have the final say.
Master Of My Fate campaigned over 2 seasons for a total of 8 starts, 6 wins (including the Gr2 Premier Trophy and the Gr2 Peninsula Handicap) and 2 places for a total of R705,700 in earnings. He will stand for a first season fee of R10,000 and enquiries can be directed either to John Freeman or directly to Varsfontein.