Sporting Post article:

There is nothing quite like a lady with real class! Judpot's brilliant daughter Along Came Polly has only won two races from ten starts but the trick is that they just both happen to be Gr1's. She scored a fluent victory in the R1 million Gr1 Laurie Jaffee Empress Club Stakes at Turffontein on Friday evening and showed that the draw probably beat her in the SA Fillies Classic last time.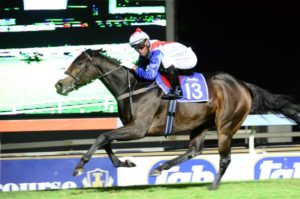 On an unusual Friday evening on the South African racing programme(Gr1 R1 million races are not the usual pre weekend menu), Varsfontein Stud's Judpot flagbearer carried her 13 saddle cloth as if it was the luckiest label in town,to win a cracker of a race.
Along Came Polly had won the Gr1 Thekwini Stakes as a 2yo to shed her maiden and became her sire's first stakes winner. In fact, at the time it was reckoned that the son of A.P. Indy had the best Gr1 record of a first season sire in over fifty years.
The final result of Friday evening's contest also partially disproved the notion that this crop of 3yo fillies are not exactly a vintage bunch, with the top two cheques being taken by the younger generation, who were admittedly probably also fitter on average than the older girls.
Sean Cormack and Jet Aglow looked to have done enough to win it at the 300m, but the challengers came from all round with Along Came Polly flying through down the inside rail to win in a flourish by 1,25 lengths in a time of 96,21 secs.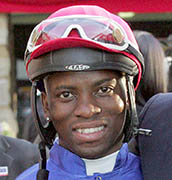 S'Manga Khumalo rode a lovely race
She beat the Gauteng Guineas winner Arcetri Pink, who ran a sterling race in second after a fairly tough recent racing programme, ahead of the deadheaters Jet Aglow and Espumanti.
It was a particularly good effort by Dennis Drier's Jet Aglow who came in here straight off a twelve week rest from the Cape Summer of Champions and she did much of the donkey work in the home run after Sea Shadow had folded.
The recently much maligned S'manga Khumalo, who rode a confident race on Along Came Polly, said that he just wanted to cross over from a nice draw as there were horses he 'didn't want to follow'.
"They started to pick it up at the 800m but I was in touch and took the easy way down the inside. She showed how unlucky she was last time and won a good race. She settles and quickens and that is the sign of a good horse. I won this race in 2011 with Dancewiththedevil, so it is a great honour to make it a double," he said
Trainer Gavin Van Zyl congratulated his owners, KZN based Brian and Yolande Burnard.
"They couldn't make it tonight as they had a business commitment. They have been very patient and I appreciate their support. Also to my son Chesney, who does such a fine job. I have been up here for two weeks and things are going well. I would also like to thank the Jaffee family. I am so proud to have won this race in memory of such great people," he said.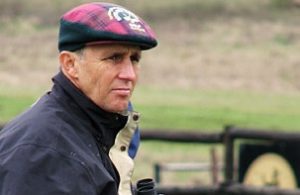 Trainer Gavin Van Zyl's belief in his filly was vindicated
An elated Van Zyl then also commended Carl De Vos at Varsfontein Stud, labelling Judpot a 'sensational sire.'
The former jockey then said in something of a disappointing news snippet that Along Came Polly would probably retire soon 'as she has lots of problems.'
She has all the makings of a fantastic broodmare and it will be interesting to see if she possibly goes back to the beautiful farm in Paarl where she was born.
She has won 2 races with 6 places from 10 starts for stakes of R1 589 000.
Along Came Polly is by Judpot out of the one time winning Model Man mare, Perfect Polly.
She was bred by Varsfontein Stud and cost just R60 000 on the 2012 National Yearling Sale.
Judpot has 24 offspring on the forthcoming National Yearling Sale.
There should be plenty of interest!